An entrance ceremony was held with all 15 elementary schools in the Tsubame city, and in total 722 new first graders entered it.
4.6.2009
On April 6 of the new week when an almost spring blue sky opened, an entrance ceremony was performed with all 15 Elementary School in the Tsubame city all together, and in total 722 new first graders entered it.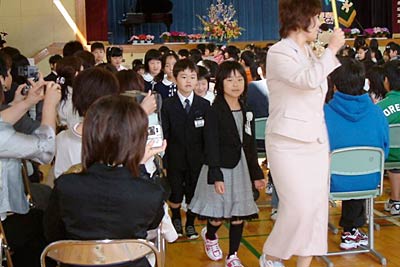 The protector who takes the photograph with a new first grader entering it at an entrance ceremony held in Tsubame city Yoshida north elementary school on April 6.
Held an entrance ceremony in a gymnasium in 2009 from half past 10 a.m., and, in the Yoshida north elementary school (Principal Reiko Yamaguchi / 244 children), met 41 new first graders.
As for the first grader, all boys and girls of them had many a jacket and boleros of dark blue and the black calm color, and the boy wore shorts, and the girl wore a dress. The first grader was invited to the applause of attendance at school student and the protector, and entered it.
The Principal Yamaguchi was an address, and said to a new first grader to try three of I was careful about aisatsusurukoto, intimacy kusurukoto, a car and an injury, and spending it safely hard. Furthermore, he said that there "were a lot of friends in the Tsubame north elementary school, and all got along well", and welcomed a first grader.
Introduced a class teacher else, and, after the congratulatory address of the guest, presented a yellow hat from the traffic guidance member of association of Tsubame city road safety. When "thank you" for the new first grader preparing n, a voice whenever were said that "congratulations on entrance to school" by guests, answered in a pretty voice slowly.
After a ceremony, the first grader heard the explanation from the next day in a classroom, and received the schoolchild's satchel cover of the road safety, and took a ceremonial photograph with a protector.
"kenoh.com" is a News Site at Heartland in Niigata Prefecture Japan